PROGRAMS
The following programs are nationally recognized and trademarked and can only be taught in Lexington by Moberly's Martial Arts!

There are many reasons for kids to become involved in the martial arts. We have developed a program based on traditional Taekwondo for kids called Karate for Kids. The Karate for Kids system is based on a lifetime learning concept in addition to technical skills. The building blocks for our system are monthly themes such as:
| | | |
| --- | --- | --- |
| Goals | Friendship | Perseverance |
| Self-Control | Confidence | Self-Improvement |
| Courtesy | Self Awareness | Respect |
| Integrity | Self-Esteem | Dedication |
In addition to monthly themes, our system includes the unique victory patch. Kids are rewarded special "Victory Stars." These different colored stars are rewarded for outstanding performance in karate class, school, home or at a tournament competition. Kids may receive the following stars for the following deeds:

| | |
| --- | --- |
| Gold | Straight Ais, honor roll, or significant improvement |
| Silver | Special performance awards |
| Blue | Monthly themes, weekly lessons, classroom performance |
| Red | Tournament participation |
Four different colored Victory Patches are available to accommodate all the stars that can be earned by a high achieving Karate Kid:
Victory Patches

Blue

0-24 Stars

Silver

25-49 Stars
Gold
50-99 Stars
Blue/

Gold

100+ Stars
ATA Tigers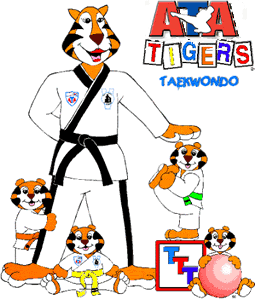 In addition to our internationally recognized Karate for Kids program, we offer the Taekwondo for ATA Tigers program. The ATA Tiger program was developed specifically for preschool age children ages 4 through 6. This program offers children a strong foundation in essential character qualities such as courtesy, respect, and discipline. In addition, the program is designed to improve children's motor skills and enhance their ability to pay attention and follow directions. All classes are taught using the most safe, fun, and exciting instruction methods available for this age group. This program works in conjunction with the Karate for Kids program, thereby emphasizing the same important monthly themes and value system.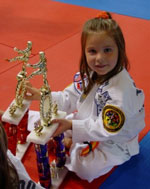 Just like in the Karate for Kids program, ATA Tigers have their own unique victory patch and "Victory Stars." Stars are earned in the same way as the Karate for Kids program, with slight modifications in recognition of the preschool age of the child. Four different colored victory patches are available to accommodate all the stars that can be earned by a high achieving ATA Tiger. Except for the logo, the four victory patches of the Tigers are the same as the Karate for Kids patches.
ATA Adult Taekwondo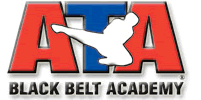 We train our students to the best of their ability. Some students come to us in shape, while others have come to us 100 pounds overweight. Most come to us with limited flexibility. Adults start at any age, as we have seen some adults who started as late as age 65, and have still earned their black belts. As a student, you are looked upon as an individual, never compared to anyone else. Our instructors will be there every step of the way. All that is expected of you is a willingness to try.
Here are some benefits you can expect from training in Taekwondo:
Fitness-The principals of Taekwondo techniques are based on the design of your body. For power you develop the larger, powerful muscles of the torso. The speed of the techniques comes from the fast, agile muscles of the arms and legs. as you progress in Taekwondo you will learn to coordinate this speed and power, and develop a concentration to focus all of your body's strength into a small, hard striking surface like the edge of the hand or the heel of the foot.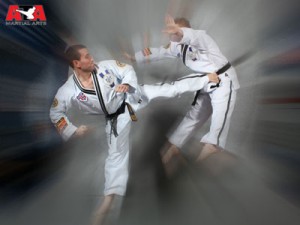 Self-defense-When the speed and power developed through Taekwondo is used in a self-defense situation against the soft vulnerable parts of an attacker's body, the result can b incredible. Taekwondo allows a woman to emphasize many of her natural strengths, such as power in the legs, while learning a method of self-defense efficient against a much larger opponent. knowing you can defend yourself, your confidence will grow. And Confidence alone is usually enough to deter potential attackers
Self-confidence-This does not come naturally for many people, but self-confidence can be developed over a period of time. Through Taekwondo as you accomplish new goals, your confidence level increases. Taekwondo instills a sense of discipline and self-confidence that can carry over to all aspects of your life.
Krav Maga
Visit moberlyskravmaga.com for more information on our Krav Maga Program offered at our Richmond Academy.
CALL (859) 264-1964CALL (859) 264-1964 or Contact Us For More Information.....

501 Darby Creek Suite 66
Lexington, KY 40509
MAP